To continue growing and maintain their position as one of Sweden leading companies within operations and service monitoring Metricio needed to achieve environmental and quality certifications. CANEA guided Metricio through this journey and helped establish processes that resulted in the wanted certifications as well as in unexpected work process improvements.
Background
Metricio AB is a Swedish company specializing in IT and consulting services in the operational safety and service monitoring for the public and private sector. The company was founded in 2017 with the vision: "Metricio should help our customers to be successful by ensuring the quality of their infrastructure, business-critical services and production with smart and secure IT operations solutions". Metricio is today a growing organization with many big customer and partners.
In line with increasing customer requirements and to create a basis for continued growth, management decided in 2021 to implement a quality and environmental management system based on the international standards ISO 9001 and ISO 14001 and to certify the business against these standards. It was also decided to bring in qualified consulting support to lead this effort.
Consultants were brought in to facilitate implementation and to ensure that certifications were carried out as accurately and efficiently as possible. Following a supplier evaluation, CANEA was selected as the best candidate on the grounds that they were perceived as the supplier who best understood how a smaller company could undertake this journey without the project becoming too large.
Implementation
Work started in mid-April 2021 and was completed in June of the same year. The work was initiated during the ongoing covid-19 pandemic and was conducted through a set of focused online workshops prepared and led by CANEA's consultant. The process of mapping processes and producing the necessary documentation went surprisingly smoothly with the support of CANEA. Although Metrico had limited knowledge of management systems at the start of the project, they were largely self-sufficient in the work by the end of the project, with CANEA mainly giving assistance when needed.
Results
Three months after the start of the project, Metricio had achieved its desired outcome and established quality and environmental management processes that meet the requirements of ISO 9001 and ISO 14001. CANEA's consultants met Metricio's expectations for an efficient project that was not too large and, according to Fredrik Landström, were invaluable in achieving the desired result. Fredrik also underlines the value that the certification work has provided beyond the certification itself. The structured work required by the certifications has led to less administration as well as to work being easier and more enjoyable in general.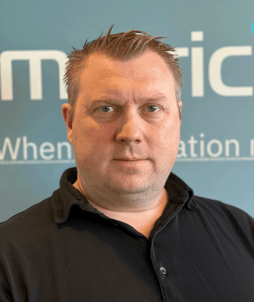 "Apart from looking good on the website and showing off a nice badge, the benefits run much deeper than that. It's an effective way to run the business. So, for any small business thinking of making this journey I recommend it, it will be much easier and it's much more fun to work when everything is under control. "

– Fredrik Landström, Founder and
Software Specialist at Metricio AB