Energy and the environment are sectors in continuous change. Customers have higher expectations for easy and smooth deliveries while demands for security and information security are increasing. Technology is evolving rapidly and digitisation brings new opportunities. A focus on sustainability is a given.
Ljusdal Energi delivers electricity, water & sewage, heating, broadband, and waste collection, among other services. The aim is to be a driving force in the development of Ljusdal municipality, to contribute to a good living environment, and to be seen as the local, preferred alternative.

As a company with seven subsidiaries and owned by a small municipality, it is important to stay focused. Ljusdal Energy has increased the common understanding of its business processes, increased the commitment of our managers, improved the improvement process, and created order in its documentation.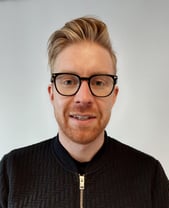 "A turning point was when we got the key stakeholders to sit down in the same room to create an understanding of each other's processes. Then we suddenly had energy and commitment to the improvement work."
Jesper Söderbäck, Ljusdal Energy
Introduction - creating the conditions
The first steps in Ljusdal Energy's journey were largely about creating the right conditions. In the first stage, it was decided to procure and implement the document management system CANEA Document, which is one of five modules in CANEA ONE. Information and metadata were mapped, existing documentation was inventoried, and the system was set up to meet the requirements of the business. However, it soon became clear that additional efforts were needed to reach all the way. Efficient IT support was not enough, and it was realized that a clear connection to the strategy as well as an improved focus on processes and customers were needed.
Re-launch with strategic objectives and a master process map
So, it was decided that a fresh approach was needed. The focus shifted to defining strategic objectives and CANEA Strategy was deployed for strategic business reporting. The management team, therefore, started the process of building consensus around the company´s main process map. Process owners and process leaders were appointed and trained, resulting in increased engagement of stakeholders and staff involved.
Process mapping
Work began on mapping the business processes. A large number of workshops were held, but despite high levels of engagement during the workshops, something was missing. Processes became more detailed, but the overall picture and context were lost.
A shift of focus to all customer flows
To remedy the feeling that processes were not really connected, a focus event was held over a few days, bringing together key stakeholders to work through complete customer flows, involving multiple processes. This created an understanding and commitment to how the processes were connected and what needed to be developed to make them work better. Realizing the interdependencies between different parts of the business and understanding the customer journey through the processes provided many useful 'aha' moments. A process team was appointed to take the work forward.
"Working with a process-oriented management system requires patience and a combination of creating the right conditions and seeking impact. For us, it has been good to have a full-service provider who can support us all the way with IT solutions as well as consulting and training."
Jesper Söderbäck, Ljusdal Energy
Continuous improvement
n order to move forward, Ljusdal Energy worked to establish a systematic approach to continuous improvement. Pulse meetings were introduced to capture large and small issues. The process for driving improvement work was digitized in CANEA Workflow.
In order to create more momentum in the improvement work and to increase the competence of the organization regarding improvements and problem-solving, a Kaizen event was carried out, where the focus was on selected problems for several days. The results included insights into how the organization needs to act in order for the customer to perceive Ljusdal Energy's seven different companies as a whole.
But the journey is not over. It continues in areas such as digitized project management and streamlining of records, where there are great opportunities for improvement.
Results and business benefits
Consensus on business processes.
Increased involvement of managers.
A systematic approach to continuous improvement.
Order and tidiness in documentation and information.
Reduced individual dependency.
Stronger brand - "One Ljusdal Energy".